WordPress database error: [Duplicate entry 'cron' for key 'option_name']
INSERT INTO `wp_options` (`option_name`, `option_value`, `autoload`) VALUES ('cron', 'a:2:{i:1656521252;a:1:{s:30:\"wp_site_health_scheduled_check\";a:1:{s:32:\"40cd750bba9870f18aada2478b24840a\";a:3:{s:8:\"schedule\";s:6:\"weekly\";s:4:\"args\";a:0:{}s:8:\"interval\";i:604800;}}}s:7:\"version\";i:2;}', 'yes') ON DUPLICATE KEY UPDATE `option_name` = VALUES(`option_name`), `option_value` = VALUES(`option_value`), `autoload` = VALUES(`autoload`)
WordPress database error: [Duplicate entry 'cron' for key 'option_name']
INSERT INTO `wp_options` (`option_name`, `option_value`, `autoload`) VALUES ('cron', 'a:2:{i:1656434853;a:1:{s:26:\"action_scheduler_run_queue\";a:1:{s:32:\"0d04ed39571b55704c122d726248bbac\";a:3:{s:8:\"schedule\";s:12:\"every_minute\";s:4:\"args\";a:1:{i:0;s:7:\"WP Cron\";}s:8:\"interval\";i:60;}}}s:7:\"version\";i:2;}', 'yes') ON DUPLICATE KEY UPDATE `option_name` = VALUES(`option_name`), `option_value` = VALUES(`option_value`), `autoload` = VALUES(`autoload`)
WordPress database error: [Duplicate entry 'cron' for key 'option_name']
INSERT INTO `wp_options` (`option_name`, `option_value`, `autoload`) VALUES ('cron', 'a:2:{i:1656434853;a:1:{s:33:\"wc_admin_process_orders_milestone\";a:1:{s:32:\"40cd750bba9870f18aada2478b24840a\";a:3:{s:8:\"schedule\";s:6:\"hourly\";s:4:\"args\";a:0:{}s:8:\"interval\";i:3600;}}}s:7:\"version\";i:2;}', 'yes') ON DUPLICATE KEY UPDATE `option_name` = VALUES(`option_name`), `option_value` = VALUES(`option_value`), `autoload` = VALUES(`autoload`)
WordPress database error: [Duplicate entry 'cron' for key 'option_name']
INSERT INTO `wp_options` (`option_name`, `option_value`, `autoload`) VALUES ('cron', 'a:2:{i:1656434853;a:1:{s:18:\"wp_https_detection\";a:1:{s:32:\"40cd750bba9870f18aada2478b24840a\";a:3:{s:8:\"schedule\";s:10:\"twicedaily\";s:4:\"args\";a:0:{}s:8:\"interval\";i:43200;}}}s:7:\"version\";i:2;}', 'yes') ON DUPLICATE KEY UPDATE `option_name` = VALUES(`option_name`), `option_value` = VALUES(`option_value`), `autoload` = VALUES(`autoload`)
WordPress database error: [Duplicate entry 'cron' for key 'option_name']
INSERT INTO `wp_options` (`option_name`, `option_value`, `autoload`) VALUES ('cron', 'a:2:{i:1656434853;a:1:{s:34:\"wp_privacy_delete_old_export_files\";a:1:{s:32:\"40cd750bba9870f18aada2478b24840a\";a:3:{s:8:\"schedule\";s:6:\"hourly\";s:4:\"args\";a:0:{}s:8:\"interval\";i:3600;}}}s:7:\"version\";i:2;}', 'yes') ON DUPLICATE KEY UPDATE `option_name` = VALUES(`option_name`), `option_value` = VALUES(`option_value`), `autoload` = VALUES(`autoload`)
WordPress database error: [Duplicate entry 'cron' for key 'option_name']
INSERT INTO `wp_options` (`option_name`, `option_value`, `autoload`) VALUES ('cron', 'a:2:{i:1656434853;a:1:{s:16:\"wp_version_check\";a:1:{s:32:\"40cd750bba9870f18aada2478b24840a\";a:3:{s:8:\"schedule\";s:10:\"twicedaily\";s:4:\"args\";a:0:{}s:8:\"interval\";i:43200;}}}s:7:\"version\";i:2;}', 'yes') ON DUPLICATE KEY UPDATE `option_name` = VALUES(`option_name`), `option_value` = VALUES(`option_value`), `autoload` = VALUES(`autoload`)
WordPress database error: [Duplicate entry 'cron' for key 'option_name']
INSERT INTO `wp_options` (`option_name`, `option_value`, `autoload`) VALUES ('cron', 'a:2:{i:1656434853;a:1:{s:17:\"wp_update_plugins\";a:1:{s:32:\"40cd750bba9870f18aada2478b24840a\";a:3:{s:8:\"schedule\";s:10:\"twicedaily\";s:4:\"args\";a:0:{}s:8:\"interval\";i:43200;}}}s:7:\"version\";i:2;}', 'yes') ON DUPLICATE KEY UPDATE `option_name` = VALUES(`option_name`), `option_value` = VALUES(`option_value`), `autoload` = VALUES(`autoload`)
WordPress database error: [Duplicate entry 'cron' for key 'option_name']
INSERT INTO `wp_options` (`option_name`, `option_value`, `autoload`) VALUES ('cron', 'a:2:{i:1656434853;a:1:{s:16:\"wp_update_themes\";a:1:{s:32:\"40cd750bba9870f18aada2478b24840a\";a:3:{s:8:\"schedule\";s:10:\"twicedaily\";s:4:\"args\";a:0:{}s:8:\"interval\";i:43200;}}}s:7:\"version\";i:2;}', 'yes') ON DUPLICATE KEY UPDATE `option_name` = VALUES(`option_name`), `option_value` = VALUES(`option_value`), `autoload` = VALUES(`autoload`)
WordPress database error: [Duplicate entry 'cron' for key 'option_name']
INSERT INTO `wp_options` (`option_name`, `option_value`, `autoload`) VALUES ('cron', 'a:2:{i:1656434853;a:1:{s:31:\"wpseo_permalink_structure_check\";a:1:{s:32:\"40cd750bba9870f18aada2478b24840a\";a:3:{s:8:\"schedule\";s:5:\"daily\";s:4:\"args\";a:0:{}s:8:\"interval\";i:86400;}}}s:7:\"version\";i:2;}', 'yes') ON DUPLICATE KEY UPDATE `option_name` = VALUES(`option_name`), `option_value` = VALUES(`option_value`), `autoload` = VALUES(`autoload`)
WordPress database error: [Duplicate entry 'cron' for key 'option_name']
INSERT INTO `wp_options` (`option_name`, `option_value`, `autoload`) VALUES ('cron', 'a:2:{i:1656434853;a:1:{s:31:\"wpseo_permalink_structure_check\";a:1:{s:32:\"40cd750bba9870f18aada2478b24840a\";a:3:{s:8:\"schedule\";s:5:\"daily\";s:4:\"args\";a:0:{}s:8:\"interval\";i:86400;}}}s:7:\"version\";i:2;}', 'yes') ON DUPLICATE KEY UPDATE `option_name` = VALUES(`option_name`), `option_value` = VALUES(`option_value`), `autoload` = VALUES(`autoload`)
WordPress database error: [Duplicate entry 'cron' for key 'option_name']
INSERT INTO `wp_options` (`option_name`, `option_value`, `autoload`) VALUES ('cron', 'a:2:{i:1656914131;a:1:{s:23:\"sbi_usage_tracking_cron\";a:1:{s:32:\"40cd750bba9870f18aada2478b24840a\";a:3:{s:8:\"schedule\";s:6:\"weekly\";s:4:\"args\";a:0:{}s:8:\"interval\";i:604800;}}}s:7:\"version\";i:2;}', 'yes') ON DUPLICATE KEY UPDATE `option_name` = VALUES(`option_name`), `option_value` = VALUES(`option_value`), `autoload` = VALUES(`autoload`)
Farming Methods
We put the welfare and happiness of our animals above all else. Our stock are raised traditionally in a stress free environment, handled with care and with the highest levels of husbandry producing meat unrivalled in quality and flavour. The beef is then matured on the bone for three weeks in the traditional manner, before butchering and packaging into a range of choice cuts, delicious sausages, mouth watering roasts, tasty mince and outstanding burgers.
We have moved away from growing just broccoli and cabbage on a large scale for the supermarkets. Now we grow a huge variety of seasonal vegetables which are picked by hand, fresh for the shop every morning. All of our vegetables are grown for taste, not for presentation in a supermarket, our produce isn't forced and only treated if necessary- we believe prevention is better than cure. Our neglected cabbages have become famous locally, so called because by the time they are harvested the wild plants in the field are so much taller than the cabbages that our customers have to brush their seeds off prior to cooking! No weed killer, no pesticides and delicious.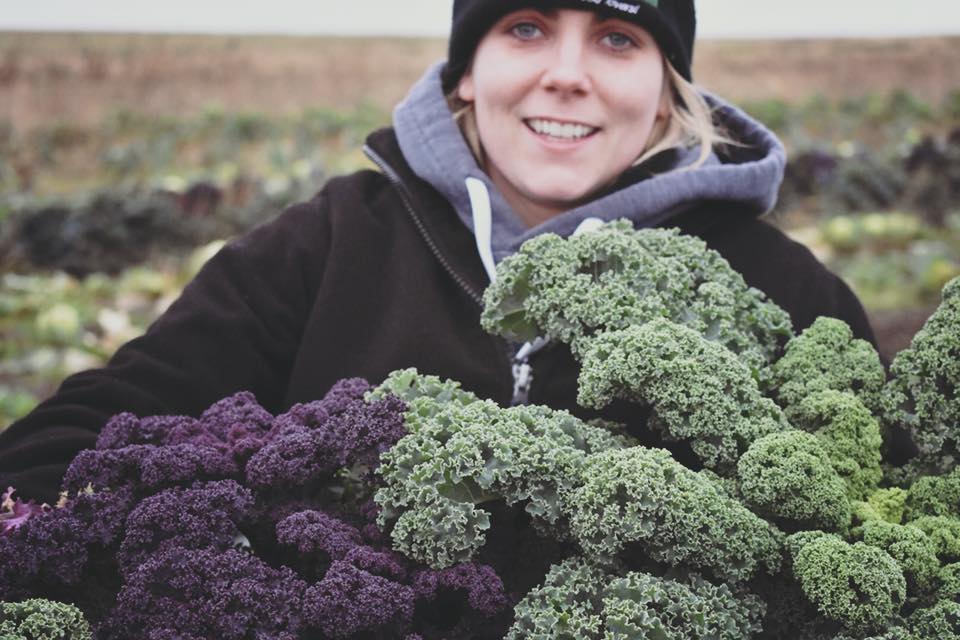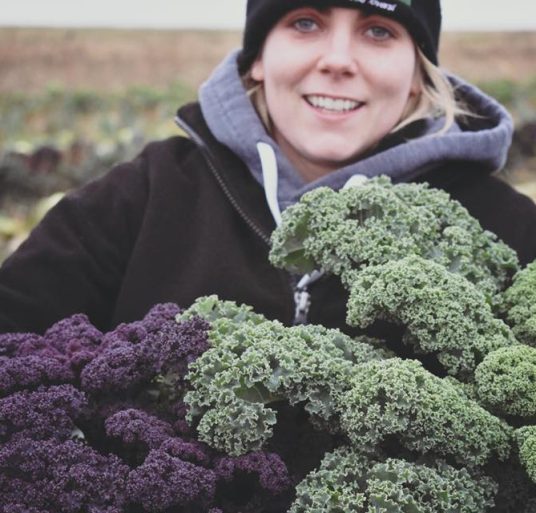 'I nearly threw myself onto the veg and wallowed in it when I saw it's freshness and variety'
We put the welfare and happiness of our animals above all else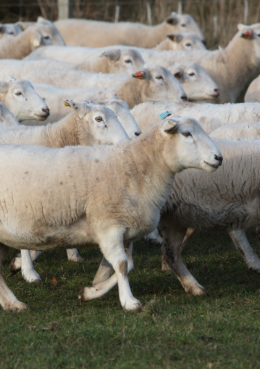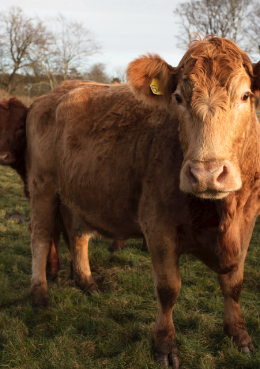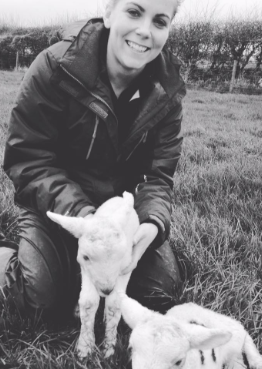 Home reared, grass-fed meat
Have you tried our beef, lamb or mutton?
All of the beef, lamb and mutton in our shop is our own. Our cattle and sheep have been grass fed for many years, however in 2016 we decided to become Pasture For Life assured. We are audited every year to ensure that our animals really are 100% grass fed.
Our herd is a high health herd, which means that our cattle are blood tested and treated only for any ailments they have, rather than blanket vaccinating. We use natural remedies, such as wild garlic and garlic licks to keep flies at bay as an alternative to chemicals. Our herd is also a closed herd. This means that we don't buy any animals in, ensuring the health of the animals already on our farm.
What does being 'Pasture for Life assured' mean?
'Pasture containing grasses, wildflowers and herbs is the natural diet of cattle and sheep. Yet today, very few animals are fed from pasture alone. Many farmers now try to produce their meat and milk as quickly as possible, by feeding things like cereals and imported soya, with animals indoors much of the time. So animals are vanishing from our fields and the tasty, healthy, grass-fed food they produce is hard to find.'
We use rotational grazing to nourish and protect our soils while ensuring our cattle are grass-fed. Our cattle stay outside, as nature intended, almost all year and we feed them preserved pasture (silage) when they need to come inside.
'Tender, full of flavour and definitely the best beef I've tasted all year'
Why is this important for you?
Recent studies have found that grass-fed beef had more than 40mg long-chain omega-3 per 100g of the meat…
Omega-3 fats have anti-inflammatory properties. A major weakness of many modern diets around the world is a shortage of these types of fatty acids.
The fatty acids we need to eat more of, occur in far higher concentrations in meat from animals fed just on diverse pasture and forage. If you feed an animal grain for just one day of its life you don't get these benefits, that's why being Pasture for Life assured is very important.
In addition grass is one of our biggest carbon sinks. Properly managed grazing, by ruminants has the potential to pull huge amounts of carbon out of the atmosphere and help reduce climate change.
All of the beef, lamb and mutton we sell in our shop is produced by us here on our farm. It is dry-aged and then butchered to our specifications.
'Tender, full of flavour and definitely the best beef I've tasted all year'
We put the welfare and happiness of our animals above all else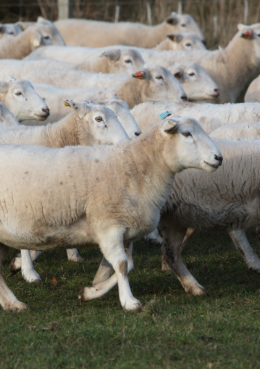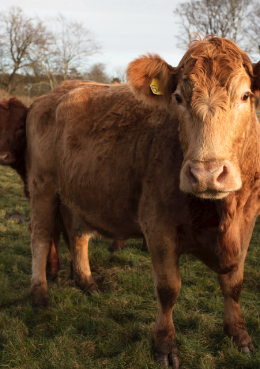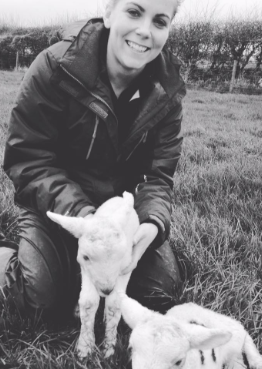 WHEN BUYING OUR MEAT YOU CAN BE CONFIDENT IT IS
Biodiversity on our farm
We are also very proud to be producing our very own honey on the farm, with the bee's thriving on the clover, wild flowers and hawthorn on our farm, producing a wonderfully pale and delicious honey. As part of our commitment to biodiversity, honey bees are just one of many pollinators we support.
Ardross is traditionally farmed, using crop rotation to nourish the soil and keep pests down. Cattle are kept in fields rich in clover or fed from farm grown feed which is guaranteed GM free.
Hedgerows are left uncut, stubble is left over winter to provide cover for birds and animals and nesting boxes have been put up for owls. We have barn owls, corn buntings, deer and badgers and our lapwing and partridge numbers increase every year due to our stewardship.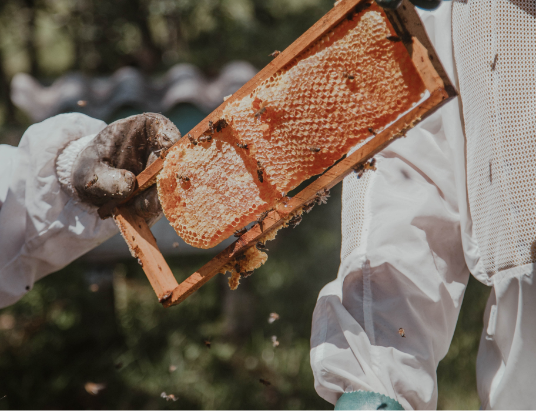 Shop local & support
your community
We pride ourselves on our fabulous selection of food sourced from 'just down the road'. Meet a few of our local suppliers, who make some of the best produce Fife has to offer.