WordPress database error: [Duplicate entry 'cron' for key 'option_name']
INSERT INTO `wp_options` (`option_name`, `option_value`, `autoload`) VALUES ('cron', 'a:2:{i:1656530120;a:1:{s:30:\"wp_site_health_scheduled_check\";a:1:{s:32:\"40cd750bba9870f18aada2478b24840a\";a:3:{s:8:\"schedule\";s:6:\"weekly\";s:4:\"args\";a:0:{}s:8:\"interval\";i:604800;}}}s:7:\"version\";i:2;}', 'yes') ON DUPLICATE KEY UPDATE `option_name` = VALUES(`option_name`), `option_value` = VALUES(`option_value`), `autoload` = VALUES(`autoload`)
WordPress database error: [Duplicate entry 'cron' for key 'option_name']
INSERT INTO `wp_options` (`option_name`, `option_value`, `autoload`) VALUES ('cron', 'a:2:{i:1656443720;a:1:{s:26:\"action_scheduler_run_queue\";a:1:{s:32:\"0d04ed39571b55704c122d726248bbac\";a:3:{s:8:\"schedule\";s:12:\"every_minute\";s:4:\"args\";a:1:{i:0;s:7:\"WP Cron\";}s:8:\"interval\";i:60;}}}s:7:\"version\";i:2;}', 'yes') ON DUPLICATE KEY UPDATE `option_name` = VALUES(`option_name`), `option_value` = VALUES(`option_value`), `autoload` = VALUES(`autoload`)
WordPress database error: [Duplicate entry 'cron' for key 'option_name']
INSERT INTO `wp_options` (`option_name`, `option_value`, `autoload`) VALUES ('cron', 'a:2:{i:1656443720;a:1:{s:33:\"wc_admin_process_orders_milestone\";a:1:{s:32:\"40cd750bba9870f18aada2478b24840a\";a:3:{s:8:\"schedule\";s:6:\"hourly\";s:4:\"args\";a:0:{}s:8:\"interval\";i:3600;}}}s:7:\"version\";i:2;}', 'yes') ON DUPLICATE KEY UPDATE `option_name` = VALUES(`option_name`), `option_value` = VALUES(`option_value`), `autoload` = VALUES(`autoload`)
WordPress database error: [Duplicate entry 'cron' for key 'option_name']
INSERT INTO `wp_options` (`option_name`, `option_value`, `autoload`) VALUES ('cron', 'a:2:{i:1656443720;a:1:{s:18:\"wp_https_detection\";a:1:{s:32:\"40cd750bba9870f18aada2478b24840a\";a:3:{s:8:\"schedule\";s:10:\"twicedaily\";s:4:\"args\";a:0:{}s:8:\"interval\";i:43200;}}}s:7:\"version\";i:2;}', 'yes') ON DUPLICATE KEY UPDATE `option_name` = VALUES(`option_name`), `option_value` = VALUES(`option_value`), `autoload` = VALUES(`autoload`)
WordPress database error: [Duplicate entry 'cron' for key 'option_name']
INSERT INTO `wp_options` (`option_name`, `option_value`, `autoload`) VALUES ('cron', 'a:2:{i:1656443720;a:1:{s:34:\"wp_privacy_delete_old_export_files\";a:1:{s:32:\"40cd750bba9870f18aada2478b24840a\";a:3:{s:8:\"schedule\";s:6:\"hourly\";s:4:\"args\";a:0:{}s:8:\"interval\";i:3600;}}}s:7:\"version\";i:2;}', 'yes') ON DUPLICATE KEY UPDATE `option_name` = VALUES(`option_name`), `option_value` = VALUES(`option_value`), `autoload` = VALUES(`autoload`)
WordPress database error: [Duplicate entry 'cron' for key 'option_name']
INSERT INTO `wp_options` (`option_name`, `option_value`, `autoload`) VALUES ('cron', 'a:2:{i:1656443720;a:1:{s:16:\"wp_version_check\";a:1:{s:32:\"40cd750bba9870f18aada2478b24840a\";a:3:{s:8:\"schedule\";s:10:\"twicedaily\";s:4:\"args\";a:0:{}s:8:\"interval\";i:43200;}}}s:7:\"version\";i:2;}', 'yes') ON DUPLICATE KEY UPDATE `option_name` = VALUES(`option_name`), `option_value` = VALUES(`option_value`), `autoload` = VALUES(`autoload`)
WordPress database error: [Duplicate entry 'cron' for key 'option_name']
INSERT INTO `wp_options` (`option_name`, `option_value`, `autoload`) VALUES ('cron', 'a:2:{i:1656443720;a:1:{s:17:\"wp_update_plugins\";a:1:{s:32:\"40cd750bba9870f18aada2478b24840a\";a:3:{s:8:\"schedule\";s:10:\"twicedaily\";s:4:\"args\";a:0:{}s:8:\"interval\";i:43200;}}}s:7:\"version\";i:2;}', 'yes') ON DUPLICATE KEY UPDATE `option_name` = VALUES(`option_name`), `option_value` = VALUES(`option_value`), `autoload` = VALUES(`autoload`)
WordPress database error: [Duplicate entry 'cron' for key 'option_name']
INSERT INTO `wp_options` (`option_name`, `option_value`, `autoload`) VALUES ('cron', 'a:2:{i:1656443720;a:1:{s:16:\"wp_update_themes\";a:1:{s:32:\"40cd750bba9870f18aada2478b24840a\";a:3:{s:8:\"schedule\";s:10:\"twicedaily\";s:4:\"args\";a:0:{}s:8:\"interval\";i:43200;}}}s:7:\"version\";i:2;}', 'yes') ON DUPLICATE KEY UPDATE `option_name` = VALUES(`option_name`), `option_value` = VALUES(`option_value`), `autoload` = VALUES(`autoload`)
WordPress database error: [Duplicate entry 'cron' for key 'option_name']
INSERT INTO `wp_options` (`option_name`, `option_value`, `autoload`) VALUES ('cron', 'a:2:{i:1656443720;a:1:{s:31:\"wpseo_permalink_structure_check\";a:1:{s:32:\"40cd750bba9870f18aada2478b24840a\";a:3:{s:8:\"schedule\";s:5:\"daily\";s:4:\"args\";a:0:{}s:8:\"interval\";i:86400;}}}s:7:\"version\";i:2;}', 'yes') ON DUPLICATE KEY UPDATE `option_name` = VALUES(`option_name`), `option_value` = VALUES(`option_value`), `autoload` = VALUES(`autoload`)
WordPress database error: [Duplicate entry 'cron' for key 'option_name']
INSERT INTO `wp_options` (`option_name`, `option_value`, `autoload`) VALUES ('cron', 'a:2:{i:1656443720;a:1:{s:31:\"wpseo_permalink_structure_check\";a:1:{s:32:\"40cd750bba9870f18aada2478b24840a\";a:3:{s:8:\"schedule\";s:5:\"daily\";s:4:\"args\";a:0:{}s:8:\"interval\";i:86400;}}}s:7:\"version\";i:2;}', 'yes') ON DUPLICATE KEY UPDATE `option_name` = VALUES(`option_name`), `option_value` = VALUES(`option_value`), `autoload` = VALUES(`autoload`)
WordPress database error: [Duplicate entry 'cron' for key 'option_name']
INSERT INTO `wp_options` (`option_name`, `option_value`, `autoload`) VALUES ('cron', 'a:2:{i:1656706623;a:1:{s:23:\"sbi_usage_tracking_cron\";a:1:{s:32:\"40cd750bba9870f18aada2478b24840a\";a:3:{s:8:\"schedule\";s:6:\"weekly\";s:4:\"args\";a:0:{}s:8:\"interval\";i:604800;}}}s:7:\"version\";i:2;}', 'yes') ON DUPLICATE KEY UPDATE `option_name` = VALUES(`option_name`), `option_value` = VALUES(`option_value`), `autoload` = VALUES(`autoload`)
Events News
15 May 2022
Scottish Agritourism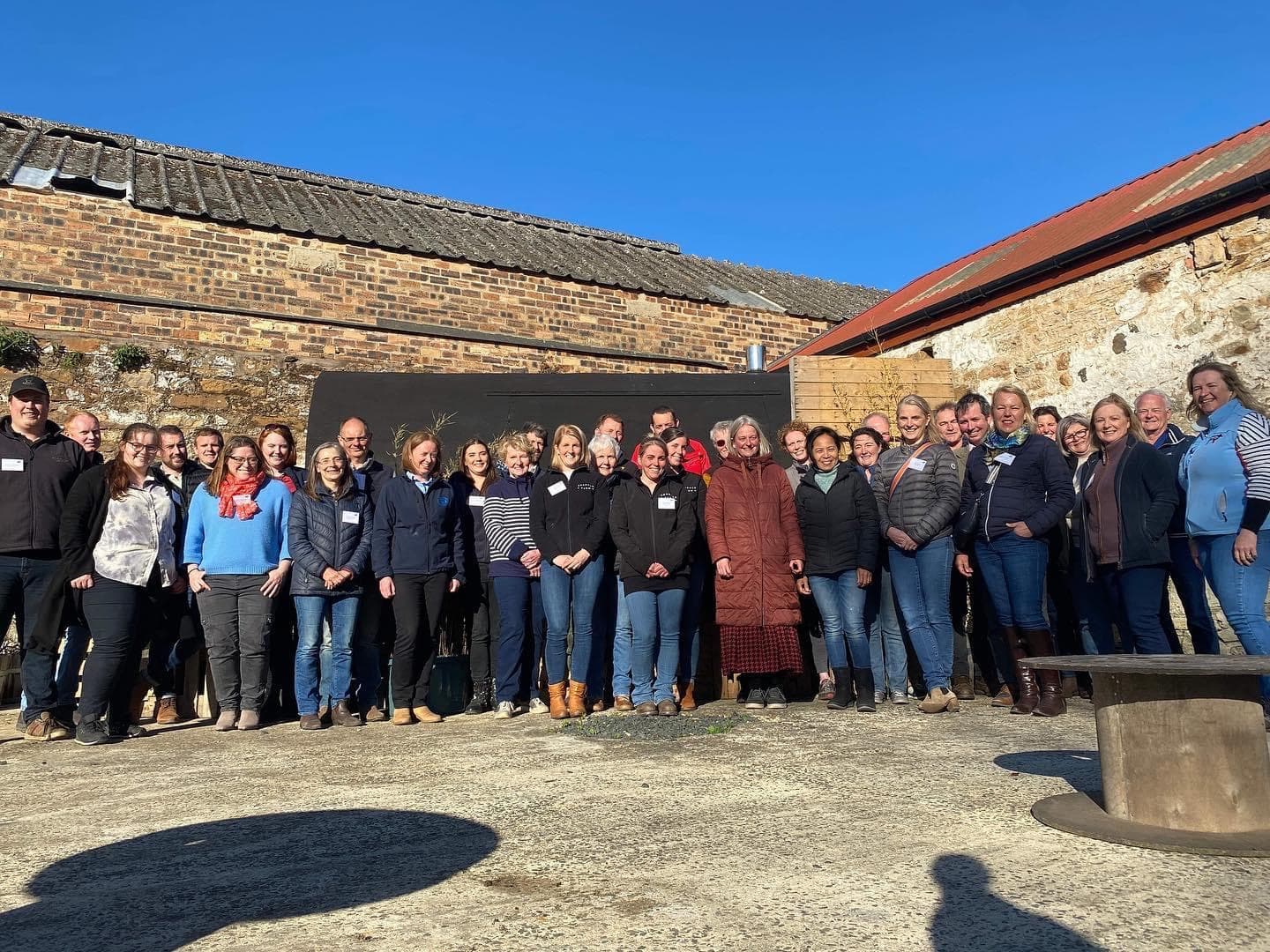 Fife, Angus and Perthshire businesses tour Ardross
We were delighted to host a Scottish Agritourism meeting on the farm this week. The East Area Showcasing Innovation event welcomed almost 40 different businesses to Ardross for a behind the scenes tour, networking and dinner.
Go Rural
We are a member of Go Rural, which is the public facing part of a dynamic sector of agritourism farmers. Our aim is to welcome members of the public onto our farms through farm stays, farm cafes, tours, farm shops, selling our produce direct, events and more. With Nikki being the Destination Leader for Fife, we were thrilled to see so many businesses join us for the first meeting of it's kind for agritourism.
We have a diverse and exciting agritourism offering in our area.  Luxury Lodges St.Andrews   are a great example of luxury accomodation on farm boasting stunning views, hot tubs and beautiful finishing's throughout their four new cabins. Based just outside Anstruther their farm has unrivalled views across the East Neuk, the Firth of Forth and beyond. Offering something different The Cow Shed at Crail is a wedding venue with Cow Pads and other accommodation. Getting married in the stunning old barn on this working farm is a dream come true for many couples and with ample accommodation on site, it makes an ideal venue. We love their new Cow Pads, taking the new craze of glamping to a new level. If you like the idea of glamping then wigwams might be the perfect solution both Wigwam Holidays Largo Law and Montrave Estate have all the mod cons without losing the fresh air, peace and quiet and escapism. If food and drink are more your thing then Balgove Larder  will be right up your street. A farm shop, deli, butchery, cafe, takeaway and the infamous steak barn create a foodie heaven.
These are only a few of the businesses that came to our meeting this week, for more inspiration on Scottish agritourism days out or weekends away please see Go Rural. There are an array of ideas on the website with blogs updated weekly. Their social media is also fantastic for competitions and inspiration. Follow them on facebook here, instagram here or twitter here.
Food and tour plans
It is in collaboration with Go Rural and Visit Scotland that we are doing an exciting project at the shop this year. We are hoping to open up our new courtyard and the coastal path to welcome more walkers, cyclists and people passing for takeaway. Ardross to go will expand on our takeaway offering with freshly made sandwiches, sausage rolls, soup, quiche, bean to cup coffees, delicious teas and local hot chocolates. All to be enjoyed in our beautiful old rustic courtyard. In addition we are hoping to offer bookable, behind the scenes tours of the farm, with an option of freshly prepared home grown food to sample afterwards. We've still got a few details to iron out so please watch this space.