Products Recipes
07 April 2021
Sausage Casserole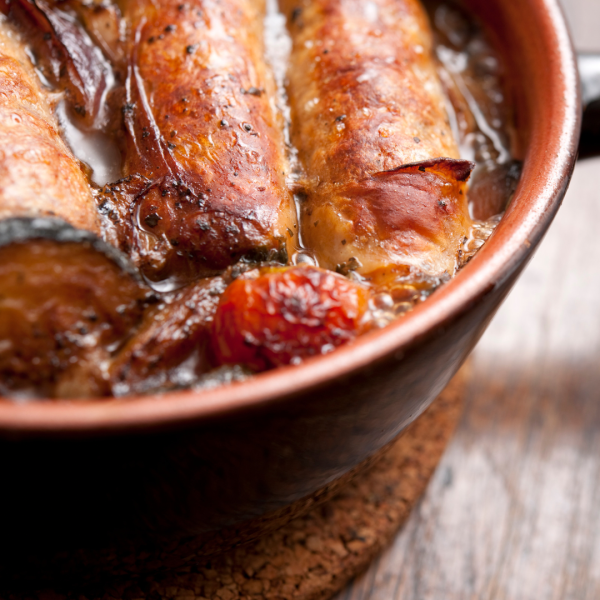 We love sausage casserole in our family. It's a definite crowd pleaser and relatively simple to make. One of our favourite meals to come home to after a long walk or a day on the farm. This recipe has the perfect balance of sweet and sour and we think that the addition of our hand tied beef sausages makes it extra tasty.
If you can't be bothered with all the hassle then pick up a ready made casserole in our shop. Made by our wonderful team of cooks, all you need to do is pop in the oven and slice the bread.
INGREDIENTS
- 1-2 tbsp Scottish rapeseed oil
- 12 Ardross Farm steak sausages
- 6 rashers of Puddledub smoked streaky bacon cut into 2cm pieces
- 2 brown onions
- 2 cloves of garlic, crushed
- 1/2-1 tsp hot chilli powder or smoked paprika
- 400g chopped tin tomatoes
- 1 x tub Ardross homemade chicken stock (300ml)
- 2 tbsp tomato puree
- 1 tbsp Worcertershire sauce
- 1 tbsp dark brown muscovado sugar
- 1 tsp dried mixed herbs
- 2 bay leaves
- 3-4 sprigs of fresh thyme
- 100ml of red/white wine
- 400g tin of beans (butter, barlotti, kidney)
- Salt & Pepper to taste

Method
Heat 1 tablespoon of the oil in a heavy based pan and fry the sausages gently for 10 minutes, turning every now and then until nicely browned all over and set aside.
Make sure rashers are separated and then fry the bacon in the frying pan until starting to brown and crisp. Set aside with the sausages.
Add the onions to the frying pan and fry over a medium heat for 5 minutes until they start to soften, stirring often. You should have enough fat in the pan, but if not, add a little more oil.
Add the garlic and cook for 2–3 minutes until the onions turn pale golden brown, stirring frequently.
Sprinkle over the chilli powder and cook together for a few seconds longer.
Add the tomatoes, stock, tomato purée, Worcestershire sauce, brown sugar and herbs.
Pour in the water, and bring to a simmer.
Add the sausages and bacon and return to a simmer.
Reduce the heat, cover the pan loosely with a lid and leave to simmer very gently for 20 minutes, stirring from time to time.
Add the beans into the casserole, and continue to cook for 10 minutes, stirring occasionally, until the sauce is thick.
Season to taste with salt and freshly ground black pepper.
Can be served with potatoes, rice or crusty bread.
Enjoy!