Products Recipes
22 February 2022
Pancake Day Family Recipes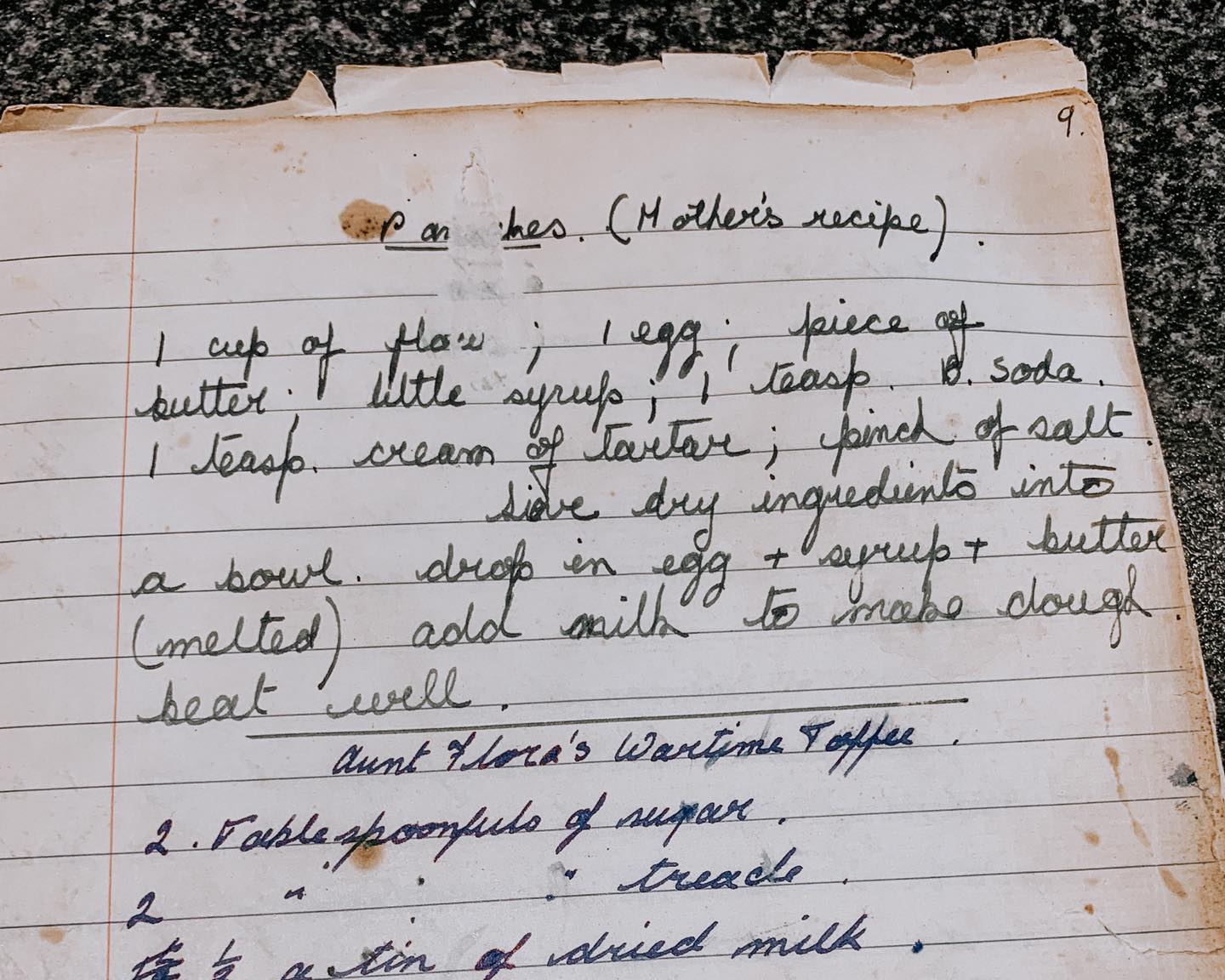 It's not long until pancake day. Mum and I have been looking through old cookery books comparing recipes for pancakes, or drop scones.
Although a lot of people find pancakes easy, it's taken me a lot of practice to make the perfect one. Many of my pancakes ended up looking more like omelettes than the delicious drop scones my Granny used to make.  Granny said that you didn't want the pan too hot, it needed to be just right. Wait until three or four bubbles had popped and then flip them over.
The recipe in the picture is from my great grandmother, who lived at Airyhemming Farm at Glenluce near Stranraer. She was born in 1902. If you can read it, it's a great recipe. All the women in our family are fantastic cooks and bakers. Perhaps because a farmers wife was expected to fuel the men when they came in for their breaks, or perhaps it was just in their genes. My grandmother Gabrielle (Gay) Whiteford always had tray bakes and cakes in tins waiting for the grandchildren to arrive and demolish. My two favourites were Highlanders (which we now sell in the shop) and Rock Buns, yum! When my mum was growing up they ate a three course lunch every day, soup, mince and tatties and then apple pie, for example. For tea was a beautifully made high tea, fish or cheese soufflé followed by least three choices of cakes on the cake stand along with scones and pancakes.
My grandmother on the other side, Margaret Peddie was incredibly successful at school, being awarded the Dux prize. She wanted to go to university and study to become a doctor, and would have been brilliant. However, her father said that girls go to Do' School (Domestic Science), and so that is what she did. Despite it not being her first choice of career, Margaret made many friends and was an excellent cook and baker. When I was growing up she lived with us and baked the most fabulous cakes. One of the many advantages of having granny live with us was nipping through and convincing her that mum hadn't given us breakfast yet. Of course, Granny knew fine well she had. Nevertheless she popped us up on a stool and let us help her make pancakes. These were topped with thick butter and jam, or Golden Syrup if we were very lucky.
There is something about pancakes that brings back wonderful memories for us.
The recipe below is actually the recipe we use here in the shop. It's simple but very tasty and hopefully easy for you to replicate at home. I recommend heating your pan until it's smoking and then turning it right down and waiting a few minutes before starting. Good luck!
INGREDIENTS
- 227g self-raising flour
- 114g caster sugar
- pinch of baking powder
- 1/2 tablespoon of lemon juice
- 2 eggs
- 175ml of milk, to make a dropping consistency

Method
Put on griddles to heat up.
Sieve flour into metal bowl, add sugar and baking powder. Whisk up eggs in a bowl with a fork and add lemon juice. Beat flour mixture and add milk to make dropping consistency.
Use a tablespoon to spoon mixture onto the griddle. Once 2 bubbles have popped, turn over. Cool on top off and under a dish towel.