Recipes
13 July 2023
Lamb Skewers with Coriander Pesto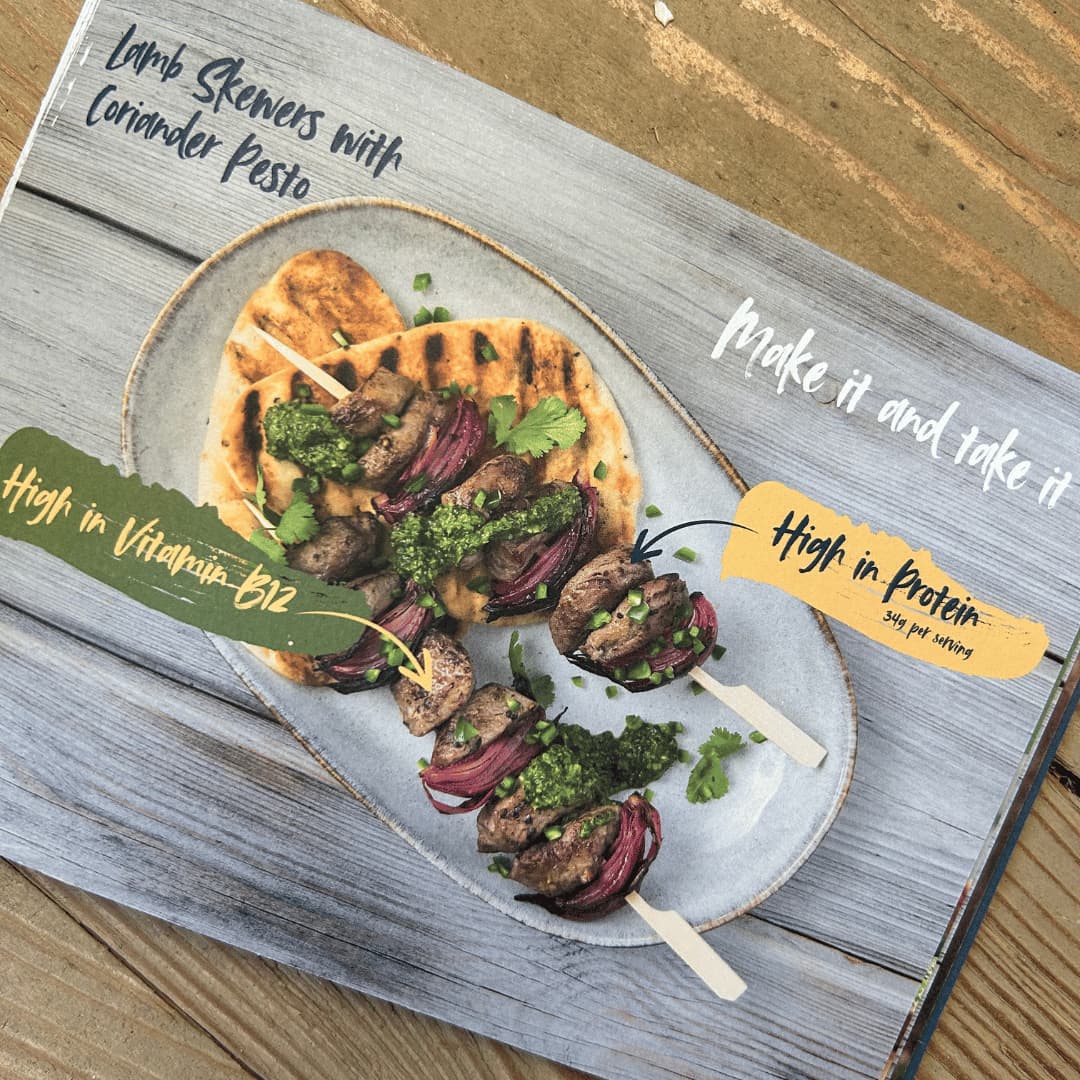 With summer holidays well and truly here, we're celebrating with a delicious
Quality Meat Scotland (QMS)
BBQ recipe, using our own
Pasture for Life
lamb.
This Lamb Skewers with Coriander Pesto recipe is quick, easy and absolutely delicious. Pick up a pack of our leg steaks or diced gigot in the shop, grab a recipe and head home knowing you've got a naturally health, totally delicious tea organised that the whole family will enjoy. 
INGREDIENTS
- 600g of our lamb leg steak or diced gigot
- 1 tsp ground fenugreek (or 1-2 tsp mild curry powder)
- A pinch of sea salt and black pepper
- 5 tbsp Scottish rapeseed oil
- 2 red onions peeled and cut into wedges
- 1 lemon juiced
- 40g fresh coriander, washed
- 2 green chillies deseeded and roughly chopped
- 2 garlic cloves
- 1 tsp ground cumin
- 8 small naan breads
- You'll also need 8 wooden or metal skewers. If using wooden, soak in water for 50 minutes ahead of cooking.

Method
1. Chop the steaks into 3cm cubes. Mix the lamb with fenugreek, seasoning and 1 tbsp oil in a large bowl.
2. Let the lamb marinate for two to three hours ahead of cooking.
3. Pop the onion in another bowl. Add half the lemon juice and some seasoning.
4 Leave to stand for 10 minutes then drain well.
5. Thread the lamb and onion on to skewers. Brush the onion with 1 tbsp oil.
6. Cook over hot coals, turning, for about 10 minutes until browned and cooked through.
7. To make pesto. Put all but a few sprigs of coriander in a blender or food processor. Add half the chilli, the garlic, cumin, remaining lemon juice and remaining oil.
8. Blitz for a few seconds until smooth. Season to taste.
9. To serve, toast the naan bread as recommended on the pack and lay the skewers on top.
10. Drizzle over the coriander 'pesto' remaining coriander and chilli.